Every year, on the 5th of October, the world comes together to celebrate a profession that molds the future - teaching. Teacher's Day is a special occasion dedicated to honoring the educators who selflessly dedicate their lives to impart knowledge. It's a day when students, young and old, express their gratitude to these mentors for their unwavering dedication. What better way to convey your appreciation than with a thoughtful bouquet of Teacher's Day flowers?
Why Choose Flowers for Teacher's Day?
Flowers have an innate charm that can convey emotions in the most delicate and heartfelt manner. Here's why Teacher's Day flowers make the perfect gift:
Universal Language of Appreciation: Flowers are a universal symbol of gratitude and admiration. They speak the language of emotions, allowing you to express your feelings without uttering a word.
Aesthetic Appeal: Flowers are naturally beautiful. Their vibrant colors and fragrant blooms can brighten up any space and bring a smile to anyone's face.
Thoughtful Gesture: Gifting flowers on Teacher's Day shows that you've taken the time to select a meaningful and thoughtful gift. It's a gesture that's sure to be appreciated.
Long-lasting: Unlike other gifts, flowers have a longer shelf life. A well-cared-for bouquet can last for days, serving as a constant reminder of your appreciation.
Choosing the Right Teacher's Day Flowers
Now that you're convinced about the power of flowers, let's explore some of the best choices for Teacher's Day bouquets:
Roses: Classic and elegant, roses symbolize love and appreciation.
Lilies: Lilies are associated with virtue and purity. They make a great option to express your respect for a teacher's dedication.
Daisies: Daisies represent innocence and gratitude. A bouquet of daisies can be a charming way to say "thank you."
Carnations: Carnations are often linked to admiration and gratitude. White carnations symbolize pure love and good luck, making them a suitable choice.
Sunflowers: Sunflowers symbolize adoration and loyalty. Their bright and cheery appearance can convey your appreciation in a warm and friendly manner.
Personalizing Your Teacher's Day Bouquet
To make your Teacher's Day gift truly special, consider personalizing the bouquet:
Add a Handwritten Note: Include a heartfelt message expressing your gratitude and admiration. A personal touch can make the gift even more meaningful.
Select the Teacher's Favorite Flowers: If you know your teacher's favorite flowers, incorporating them into the bouquet shows that you've put thought into the gift.
Choose a Themed Arrangement: Opt for a bouquet with a theme related to teaching, such as an arrangement shaped like a book or featuring miniature chalkboard decorations.
Ordering Teacher's Day Flowers Online
In today's digital age, ordering Teacher's Day flowers online is not only convenient but also offers a wide variety of options. Flower Delivery Philippines, your trusted online florist, provides an extensive range of Teacher's Day flower arrangements to suit every taste and budget.
Here's why you should choose Flower Delivery Philippines for your Teacher's Day gift:
Freshness Guaranteed: We source our flowers from the finest local growers to ensure that your bouquet arrives fresh and vibrant.
Customization Options: Choose from a variety of bouquets, vase arrangements, and add-ons to create the perfect gift.
On-Time Delivery: We understand the importance of punctuality, and we guarantee on-time delivery to make your Teacher's Day celebration seamless.
Secure Ordering: Our online platform provides a secure and hassle-free ordering experience.
Customer Satisfaction: We are committed to your satisfaction. Rest assured we will meet your expectations.
The History of Teacher's Day
To truly appreciate Teacher's Day, it's essential to understand its history and significance. The concept of celebrating teachers and their contributions to society has a rich history across different cultures. Here's a brief overview of the history of Teacher's Day:
World Teachers' Day: In 1966, UNESCO (United Nations Educational, Scientific and Cultural Organization) established World Teachers' Day, celebrated on October 5th. This date was chosen because it marks the anniversary of the adoption of the 1966 ILO/UNESCO Recommendation concerning the Status of Teachers, a significant document that outlines teachers' rights and responsibilities.
India's Guru Purnima: In India, Guru Purnima is celebrated to honor gurus (teachers) and spiritual guides. It typically falls in July or August and involves paying respects to teachers, especially in the field of spirituality.
Confucius' Birthday in China: In China, Teachers' Day is celebrated on September 10th to coincide with the birthday of Confucius, one of the most influential educators in history. This day involves paying tribute to teachers and promoting education.
National Teachers' Day in the Philippines: In the Philippines, National Teachers' Day is celebrated on the 5th of October, the same day as World Teachers' Day. It's a time when students, parents, and communities come together to appreciate the hard work of teachers.
Teacher's Day Traditions Around the World
Let's explore some unique traditions from different countries:
India: On Guru Purnima, students visit their gurus' homes or ashrams, present them with flowers and gifts, and seek their blessings. It's a day of spiritual and academic renewal.
China: Chinese students often prepare elaborate gifts and cards for their teachers. Some schools organize special events, including performances and presentations by students to show their gratitude.
Mexico: In Mexico, Teacher's Day, or "Día del Maestro," is celebrated with festive events, including parades, special school assemblies, and cultural performances.
United States: In the U.S., National Teacher Appreciation Week is observed during the first full week of May. Students and parents often express their appreciation by giving gifts, organizing luncheons, and writing thank-you notes to teachers.
Philippines: In the Philippines, students and schools plan various activities to honor teachers on National Teachers' Day. This may include programs, awards, and recognition ceremonies to highlight teachers' contributions to education.
The Impact of a Teacher's Guidance
Theacher's influence extends far beyond the classroom. Here are some ways in which teachers impact our lives:
Knowledge and Skills: Teachers impart knowledge and skills that empower students to excel academically and pursue their passions.
Character Development: Beyond academics, teachers also help shape students' character by instilling values like integrity, responsibility, and empathy.
Inspiration: Teachers often serve as role models, inspiring students to aim high and achieve their goals.
Confidence Boost: Encouragement from teachers can boost a student's self-confidence, helping them overcome challenges and setbacks.
Lifelong Learning: Teachers instill a love for learning that lasts a lifetime. They show that education is a continuous journey.
Community Building: Teachers build strong, supportive communities within classrooms and schools, fostering a sense of belonging and camaraderie.
Expressing Gratitude on Teacher's Day
Now that you understand the history and significance of Teacher's Day, and how teachers make a profound impact on our lives, it's time to plan your Teacher's Day celebration.
Here are some additional ways to express your gratitude:
Organize a Surprise Celebration: Collaborate with fellow students to organize a surprise celebration for your teacher. Decorate the classroom, prepare a heartfelt speech, and present your teacher with a bouquet of Teacher's Day flowers.
Create a Tribute Video: Gather video messages from classmates and create a tribute video expressing your appreciation. Share it with your teacher on Teacher's Day.
Write a Thank-You Letter: A handwritten thank-you letter is a timeless gesture of gratitude. Pour your heart into a letter that expresses how your teacher has influenced your life.
Contribute to a Group Gift: Pool resources with classmates to purchase a meaningful gift for your teacher. Consider personalized items or something related to their interests.
Volunteer for a Good Cause: In honor of your teacher, consider volunteering for a local cause or charity.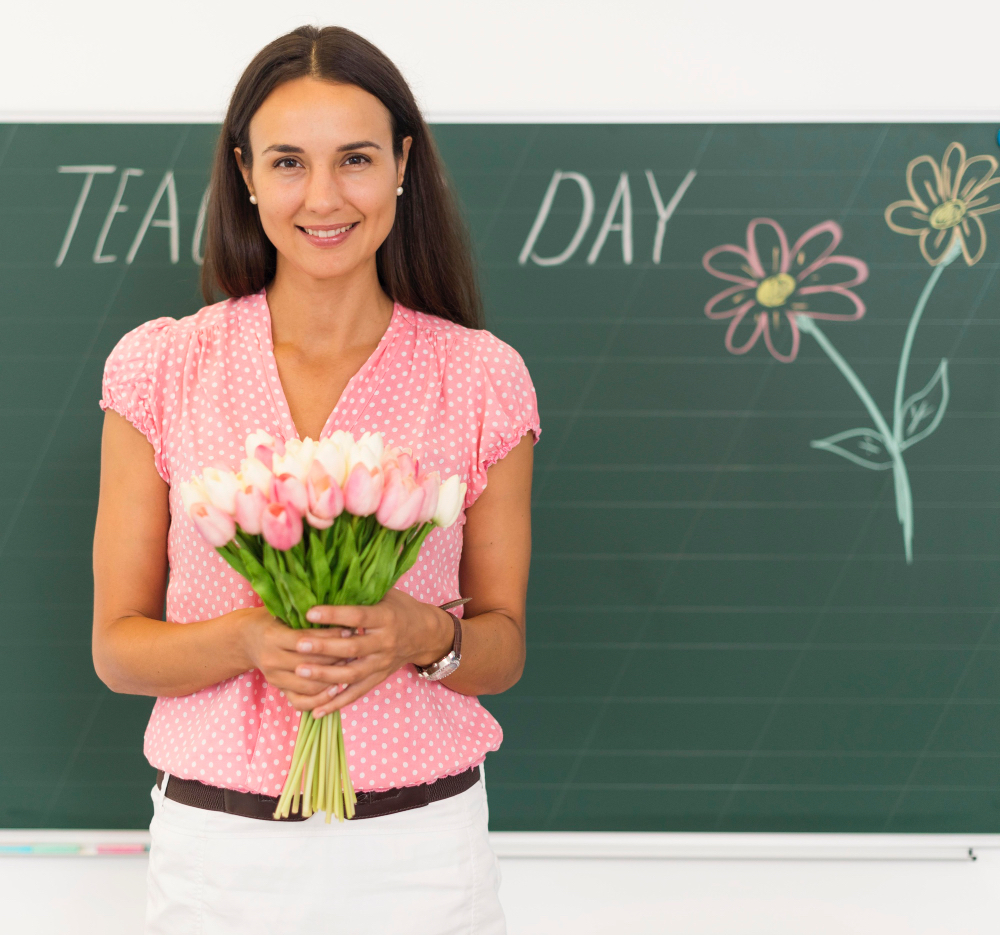 The Role of Teacher's Day in Building Stronger Communities
Teacher's Day is not just about individual appreciation but also about strengthening the bond within communities. Here's how this special day contributes to building stronger communities:
Fostering Unity: Celebrating Teacher's Day brings together students, parents, school staff, and the wider community. It fosters a sense of unity and belonging, reminding everyone of the collective responsibility to support education.
Recognizing Educational Institutions: Teacher's Day is an opportunity to recognize the vital role of educational institutions in community development. It highlights the importance of schools as centers of learning and character building.
Promoting Education: By celebrating and acknowledging teachers, Teacher's Day sends a powerful message about the value of education. It encourages parents and community members to prioritize education as a means to empower future generations.
Inspiring Future Educators: Teacher's Day celebrations often inspire young students to consider a career in education. The appreciation shown to teachers can serve as a motivating factor for those who aspire to become educators themselves.
The Digital Age: Sending Teacher's Day Flowers Online
In today's digital age, expressing gratitude has become more convenient, thanks to online platforms. Here's how you can send Teacher's Day flowers online to make the process even easier:
Choose a Reputable Online Florist: Select a trusted online florist like Flower Delivery Philippines.
Browse a Wide Selection: Explore the online catalog of flowers and arrangements to find the perfect

bouquet for teacher's day

.
Customize Your Order: Most online florists offer customization options. You can choose the type of flowers, vase, and even add a personal message to your bouquet.
Convenient Delivery: Online florists often provide flexible delivery options. You can schedule the delivery for a specific time or even opt for same-day delivery in some cases.
Payment Options: Online payment methods are secure and convenient. You can use credit or debit cards, digital wallets, or other trusted payment platforms.
Track Your Delivery: Many online florists offer tracking services, allowing you to monitor the progress of your delivery in real-time.
Teacher's Day Flowers: A Symbol of Gratitude and Respect
Teacher's Day flowers aren't just a gift; they are a symbol of gratitude, respect, and appreciation. Here's why they hold such significance:
Emotional Connection: Flowers have a unique ability to connect with people emotionally. They convey feelings of appreciation and warmth.
Non-Verbal Expression: In many cases, words can't fully express how much a teacher means to a student. Flowers bridge that gap, conveying emotions that words alone may struggle to articulate.
Lasting Memories: A bouquet of Teacher's Day flowers creates lasting memories. Teachers often keep these tokens of appreciation as cherished mementos.
Positive Impact: Receiving flowers can brighten a teacher's day and boost their morale. It reminds them that their efforts are valued and recognized.
Teacher's Day Beyond the Classroom
While Teacher's Day primarily revolves around educators in the traditional sense, it's also an opportunity to celebrate mentors from various fields. Teachers come in many forms, including coaches, mentors, and advisors. It's a day to recognize anyone who has played a significant role in your personal or professional development.
As you celebrate Teacher's Day, take a moment to reflect on those individuals who have guided you on your journey. Whether it's a sports coach who taught you teamwork and discipline or a mentor who offered valuable career advice, their influence deserves acknowledgment and appreciation.
The Convenience of Flower Delivery on Teacher's Day
Sending flowers to your favorite teacher has never been easier, thanks to the convenience of online flower delivery services. Here's why opting for flower delivery on Teacher's Day makes the celebration even more special:
Effortless Ordering: With a few clicks, you can browse through a wide selection of

Teacher's Day flower

arrangements, select the one that resonates with you, and place your order.
Delivery to Any Location: Whether your teacher is at a school, university, or even in a different city, flower delivery services can reach them wherever they are. This ensures that your heartfelt gesture reaches its intended recipient, no matter the distance.
Same-Day Delivery: In case you're running late or had a last-minute inspiration to send flowers, many online florists offer same-day delivery options. It's a lifesaver for those moments when time is of the essence.
Customized Messages: Most online flower delivery services allow you to include a personalized message with your bouquet. This adds a thoughtful touch to your gift and allows you to express your gratitude in your own words.
Scheduled Delivery: Want to ensure your flowers arrive precisely on Teacher's Day? You can schedule the delivery for the specific date and time you desire, making it a surprise your teacher will cherish.
A Bouquet Beyond Words: Expressing Your Appreciation
When words fall short, flowers step in to convey your deepest sentiments. A beautifully arranged bouquet on Teacher's Day expresses appreciation, respect, and admiration in a way that transcends language. Here's how flowers speak volumes:
Vibrant Colors: Different flowers carry distinct meanings, and their colors can symbolize various emotions. For instance, red roses signify love and respect, while yellow roses convey friendship and appreciation. By choosing the right colors, you can send a nuanced message.
Fragrant Memories: The aroma of fresh flowers can trigger powerful memories and emotions. The scent of a bouquet can transport your teacher back to that special moment when they received your heartfelt gift.
Visual Delight: The visual appeal of a bouquet brightens up any room. Imagine your teacher's face lighting up with joy as they set eyes on a beautifully arranged bouquet of fresh flowers.
Lasting Impressions: A well-chosen bouquet can become a cherished keepsake. Many teachers preserve the flowers they receive on Teacher's Day as a token of the appreciation they've earned.
An Expression of Gratitude: Above all, flowers are a universal symbol of gratitude. They represent the beauty that blooms from the seeds of knowledge sown by teachers.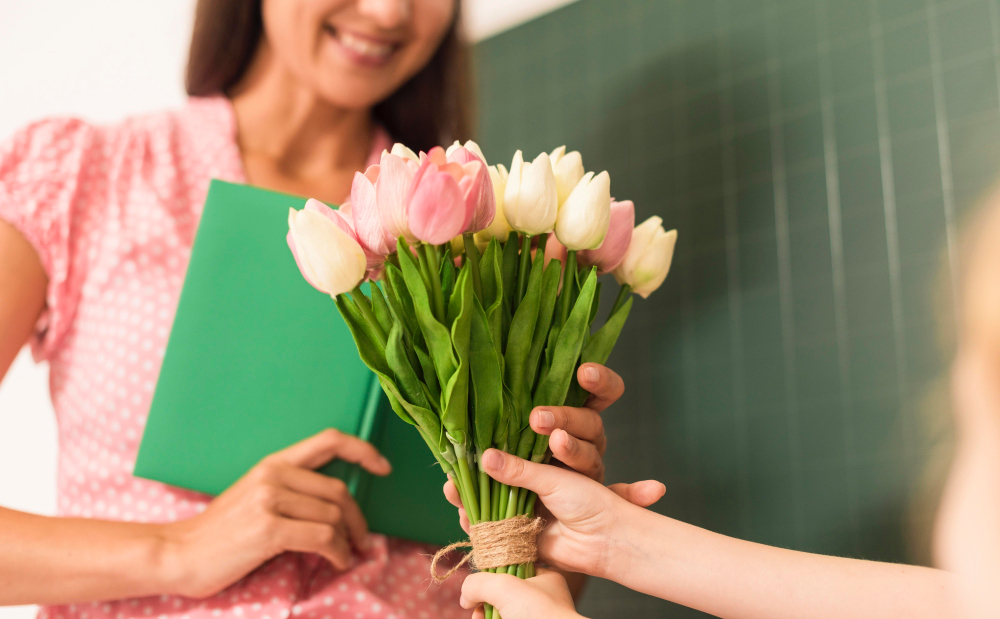 Why Choose Flower Delivery Philippines for Teacher's Day
When it comes to making your Teacher's Day celebration truly exceptional, Flower Delivery Philippines stands out as your trusted partner. Here are some compelling reasons to choose us for your Teacher's Day flower delivery:
Expert Florists: Our expert florists craft each arrangement with care and precision, ensuring that your bouquet is a work of art.
Freshness Guarantee: We source our flowers from local growers, guaranteeing freshness and vibrancy in every arrangement.
Wide Selection: Choose from a wide variety of Teacher's Day flower arrangements, vases, and add-ons to create a unique and personalized gift.
Secure Ordering: Our online platform provides a secure and hassle-free ordering experience. Your payment information is protected.
On-Time Delivery: We understand the importance of punctuality, and we are committed to delivering your bouquet on time, so your Teacher's Day celebration goes off without a hitch.
Customer Satisfaction: Our priority is your satisfaction. If you have any concerns or special requests, our customer service team is here to assist you.
A Thoughtful Gesture on Teacher's Day
Sending flowers on Teacher's Day is a thoughtful gesture that transcends words and communicates deep gratitude. The convenience of online flower delivery makes it easier than ever to express your appreciation for the educators who have made a lasting impact on your life.
At Flower Delivery Philippines, we take pride in helping you celebrate Teacher's Day with beautifully crafted bouquets that convey your respect, admiration, and gratitude. Choose us for your Teacher's Day flower delivery, and let your favorite teacher know just how much they mean to you.
Conclusion: Celebrating Teacher's Day with Flowers
In conclusion, Teacher's Day is a time to celebrate the dedication, hard work, and positive influence of teachers. It's an occasion to express your gratitude and appreciation in a meaningful way. Teacher's Day flowers, with their timeless charm and symbolism, are a perfect choice for conveying your sentiments. Whether you choose roses, lilies, or daisies, let your teacher know how much they mean to you on this special day.
Remember, Teacher's Day is not just a day; it's an opportunity to acknowledge and celebrate the remarkable individuals who shape our future. So, go ahead, plan a thoughtful celebration, and make this Teacher's Day a memorable one for your favorite educator.
With Flower Delivery Philippines, you can ensure that your Teacher's Day flowers arrive fresh and beautiful, adding a touch of elegance to your heartfelt gesture. Order your bouquet today and join the world in celebrating the unsung heroes who light the path of knowledge and wisdom for us all.