FLOWER & CHOCOLATE PACKAGES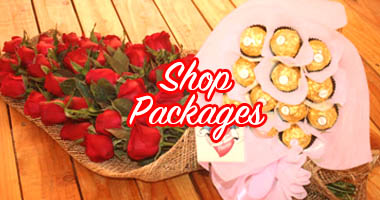 Best Value Flowers and Chocolates Packages
There's nothing sweeter than flowers and chocolate. Shop our bouquet with chocolates collection to discover a wide range of floral arrangements and chocolate gift boxes that are sure to melt your loved one's heart. You can rely on our fast and efficient flower and chocolate delivery services to make your loved one's day special.
Sweeten your bond
Are you looking for a way to express your love and appreciation for that special someone? There's no better way to express your feelings than with a chocolates and flowers combo. Flowers offer a great way to express your feelings. You can use different types and shades of flowers to convey different messages. For example, red roses are a great way to express passion and deep romantic love while yellow sunflowers are a great way to express gratitude and joy.
Add a box of chocolates to your flower package to sweeten the deal. Chocolates are not only great tasting but are also considered one of the best comfort foods. This treat will not only make your loved one feel special but also boost their mood. Chocolates are a great way to make a loved one feel loved and cared for.
Shop flower and chocolate packages
Shop our collection and discover a wide range of unique and beautiful bouquet of flowers with chocolate packages. Whether you want to say sorry, thank you, I love you or congratulations, you will find a combo package with the perfect floral arrangement and gifts to express your feelings right here. Our handmade packages feature carefully selected and arranged flowers and gifts.
Delivery throughout the Philippines
Shop our selection of flowers and chocolate packages to find the perfect combo for your needs and preferences. Our online flowers and chocolates delivery service makes sending packages much easier. Our delivery services are available for addresses throughout the Philippines.