In a world filled with celebrations, special occasions, and memorable moments, there's always a reason to express love and appreciation. One of the most delightful ways to convey your sentiments is by sending a carefully curated gift basket. Gift Baskets have become an increasingly popular choice for gifting in the Philippines, offering a wide range of options to suit every occasion and recipient. In this blog post, we will explore the world of Gift Baskets Philippines, discover why they are the perfect choice for any occasion, and how Flower Delivery Philippines makes Gift Basket Delivery a breeze.
Gift Baskets: A Token of Affection
Gift baskets have evolved beyond the traditional fruit and gourmet baskets. Today, you can find an array of gift baskets tailored to specific preferences and themes. From gourmet food baskets to spa gift baskets, there's something to delight everyone. Let's delve into why Gift Baskets are the ideal choice for expressing your emotions:
1. Versatility: Gift baskets are versatile and adaptable to any occasion. Whether it's a birthday, anniversary, graduation, or even a simple 'thinking of you' gesture, you can find a gift basket to match the sentiment.
2. Personalization: Gift baskets can be customized to reflect the recipient's tastes and interests. This personal touch shows that you've put thought into selecting the perfect gift.
3. Convenience: Gift baskets eliminate the need to shop for individual items. They come ready-to-gift, beautifully packaged, and often include a variety of goodies, making them a convenient option for busy individuals.
4. Surprise Factor: Opening a well-presented gift basket is a delightful surprise. It builds anticipation as the recipient explores the contents, creating a memorable gifting experience.
Gift Basket Philippines: An Abundance of Choices
Now that we've highlighted the benefits of gift baskets, let's talk about the diverse range of Gift Baskets available in the Philippines. Whether you're looking for Gift Basket Delivery in Manila or any other part of the country, Flower Delivery Philippines has you covered. Here are some popular Gift Baskets in the Philippines:
1. Gourmet Delights Basket: For the food connoisseur, a gourmet gift basket filled with artisanal cheeses, fine chocolates, and premium wines is the perfect choice.
2. Spa and Relaxation Basket: Pamper your loved ones with a spa-themed gift basket featuring luxurious bath products, scented candles, and soothing teas.
3. Fruit Basket: A classic choice, a fruit basket filled with fresh, seasonal fruits is a healthy and refreshing gift option.
4. Wine and Cheese Basket: Ideal for wine enthusiasts, this basket combines a selection of wines with gourmet cheeses and crackers.
5. Chocolate Lover's Basket: For those with a sweet tooth, a chocolate lover's gift basket brimming with assorted chocolates and truffles is a delightful treat.
Gift Basket Delivery Made Easy
Flower Delivery Philippines takes the hassle out of gifting by offering seamless Gift Basket Delivery services. Here's why you can rely on us:
1. Nationwide Coverage: We deliver gift baskets to various locations across the Philippines, ensuring your gift reaches its destination, no matter where your loved ones are.
2. Freshness Guaranteed: Our gift baskets are crafted with care and feature the freshest, high-quality products, ensuring a delightful experience for the recipient.
3. Timely Delivery: We understand the importance of timely delivery, especially for special occasions. You can trust us to deliver your gift basket promptly.
4. Easy Ordering: Our user-friendly online store makes it convenient to browse and select the perfect gift basket for your occasion. Simply choose, order, and leave the rest to us.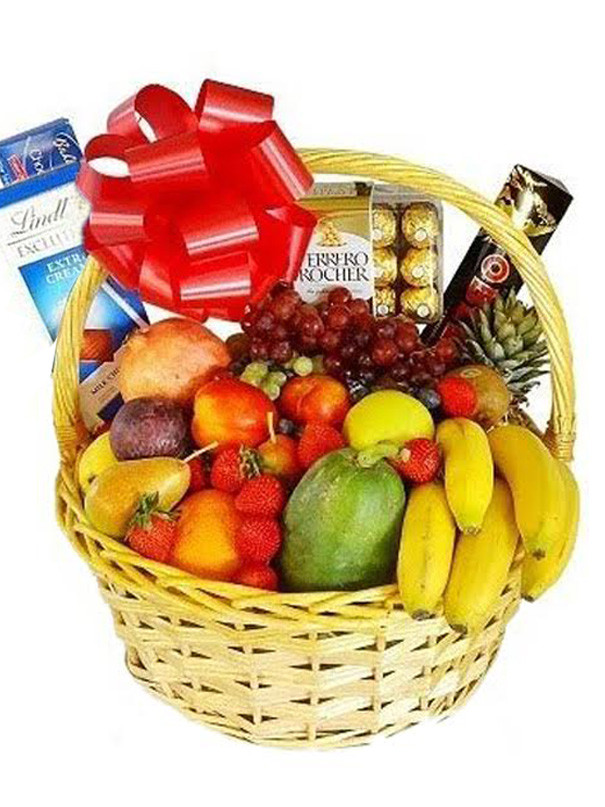 The Art of Customizing Gift Baskets
One of the standout features of Gift Baskets is the ability to tailor them to the recipient's preferences and the occasion. The art of customizing gift baskets is a delightful way to show that you've put thought into your gift. Here's how you can create a personalized gift basket that truly resonates with the recipient:
1. Know Your Recipient: Start by understanding the recipient's likes, dislikes, and interests. Are they a foodie, a wine enthusiast, a spa lover, or someone with a sweet tooth? Knowing their preferences is key to creating a meaningful gift.
2. Choose a Theme: Based on the recipient's preferences and the occasion, select a theme for the gift basket. For example, for a birthday, you might opt for a "Happy Birthday" theme with items like birthday candles, balloons, and treats. For a romantic gesture, consider a "Love and Romance" theme with chocolates, wine, and scented candles.
3. Select Quality Products: The key to a remarkable gift basket is the quality of the products it contains. Opt for premium, well-crafted items that reflect the theme. For instance, if you're creating a gourmet gift basket, choose artisanal cheeses, high-quality chocolates, and fine wines.
4. Presentation Matters: The presentation of the gift basket is just as important as its contents. Invest in a beautiful basket or container, and arrange the items attractively. Consider adding decorative elements like ribbons, bows, or even a personalized note to enhance the visual appeal.
5. Add a Personal Touch: To make the gift basket truly special, include a personal touch. This could be a handwritten note, a photo of a cherished memory, or a small item that holds sentimental value. These personal touches make the gift basket more meaningful.
The Growing Popularity of Gift Basket Delivery
With the rise of e-commerce and online gifting platforms, the convenience of Gift Delivery has gained immense popularity. In the Philippines, this trend is no exception. Here's why more and more people are choosing to send gift baskets via online stores:
1. Wide Selection: Online stores like Flower Delivery Philippines offer an extensive range of gift baskets to suit every occasion and taste. You can browse through various options, making it easy to find the perfect gift.
2. Time-Saving: In today's fast-paced world, finding the time to shop for gifts in physical stores can be challenging. Online gift basket delivery saves time and offers a hassle-free shopping experience.
3. Nationwide Reach: Whether your loved ones are in bustling Manila, scenic Cebu, or any other part of the Philippines, online gift basket delivery ensures that your thoughtful gift reaches them no matter where they are.
4. Same-Day Delivery: For those last-minute surprises, many online stores offer same-day delivery options. This is a lifesaver for forgetful moments or when you want to send a gift on the spur of the moment.
5. COVID-19 Safety: In the wake of the COVID-19 pandemic, online gift delivery has become a safer option for sending gifts without physical contact. It allows you to show you care while adhering to safety guidelines.
Celebrating Special Occasions with Gift Baskets
Gift baskets are not limited to just one or two types; they can be tailored for a wide range of special occasions. Let's explore some of the most common celebrations where gift baskets can make a memorable impact:
1. Birthdays: A birthday gift basket filled with the recipient's favorite treats, a personalized birthday card, and perhaps a small plush toy is a delightful way to celebrate another trip around the sun.
2. Anniversaries: For couples celebrating their love, a romantic gift basket with champagne, chocolates, and scented candles sets the mood for a special anniversary evening.
3. New Baby Arrival: Welcome a new addition to the family with a baby-themed gift basket featuring baby clothes, soft toys, and baby care essentials.
4. Graduations: Mark this significant milestone with a gift basket containing inspirational books, stationary, and a heartfelt congratulatory message.
5. Get Well Soon: Send your best wishes for a speedy recovery with a get-well gift basket filled with comforting items like herbal teas, soothing creams, and a warm blanket.
6. Holidays: During festive seasons like Christmas or New Year, holiday-themed gift baskets brimming with goodies like cookies, wines, and holiday decorations are a hit.
7. Just Because: Sometimes, the best moments to send a gift basket are "just because." Surprising someone out of the blue with a thoughtful gift basket can brighten their day and strengthen your bond.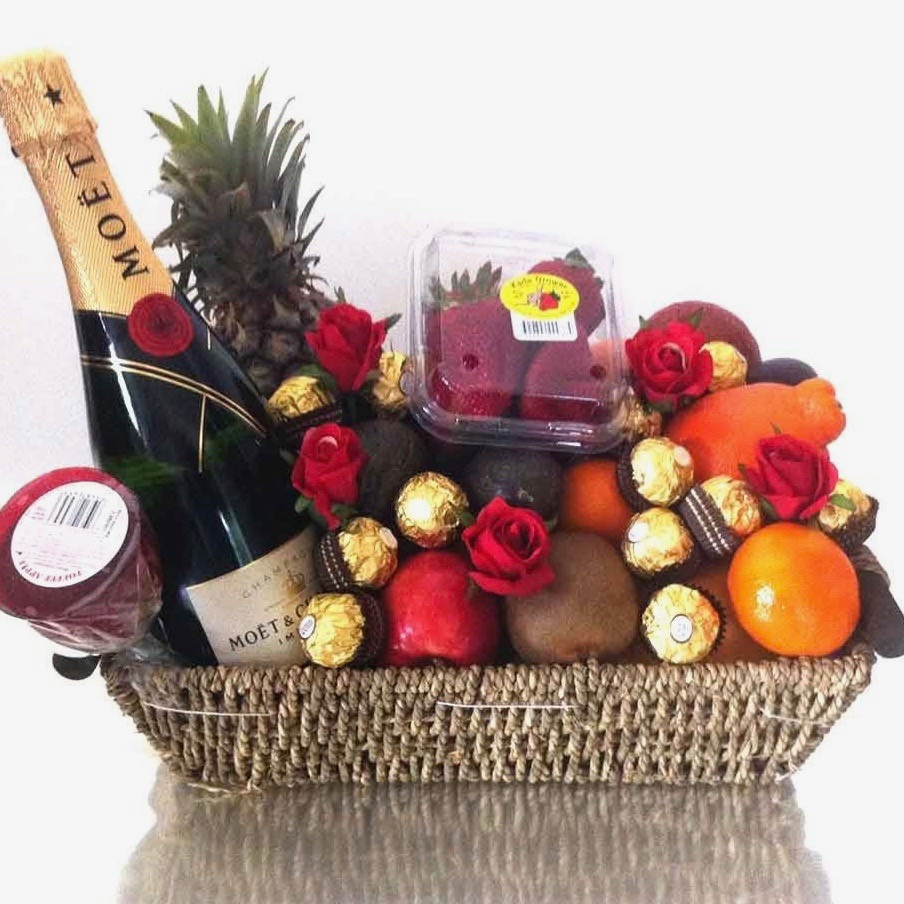 The Joy of Receiving Gift Baskets
Receiving a gift basket is a delightful experience that brings joy and excitement. It's not just about the contents; it's about the thought and effort that someone has put into curating the perfect gift. Let's explore why receiving a gift basket is such a heartwarming experience:
1. Surprise Element: Gift baskets are known for their element of surprise. When someone receives a beautifully wrapped basket, their curiosity is piqued. What's inside? The anticipation adds an extra layer of excitement to the gift-giving moment.
2. Variety of Treats: Gift baskets often contain an assortment of treats and goodies. From chocolates and gourmet snacks to fine wines and exotic fruits, there's a diverse range of items to enjoy. This variety ensures that there's something for everyone.
3. Thoughtful Selection: A well-curated gift basket reflects thoughtfulness. When the sender takes the time to select items that match the recipient's tastes, it shows a deep level of care and consideration.
4. Presentation: The visual appeal of a gift basket is undeniable. The way it's arranged and decorated adds to the overall experience. Opening a beautifully presented basket feels like unwrapping a treasure trove of delights.
5. Versatility: Whether it's a romantic gesture from a partner, a token of appreciation from a friend, or a corporate gift from a business associate, gift baskets can be adapted to suit any relationship or occasion.
6. Lasting Impression: Gift baskets leave a lasting impression. The memory of receiving such a thoughtful and tasteful gift often lingers, strengthening the bond between the sender and the recipient.
Cultural Significance of Gift Baskets in the Philippines
In the Philippines, gift-giving is deeply ingrained in the culture. Filipinos are known for their warm hospitality and generosity, and gifts play a significant role in expressing these values. Here's a glimpse into the cultural significance of gift baskets in the Philippines:
1. Traditional Celebrations: Filipinos celebrate a wide range of occasions, from birthdays and weddings to fiestas and religious festivals. Gift baskets, filled with local delicacies and goodies, are a common sight at these events.
2. Pasalubong Tradition: The concept of "pasalubong" is deeply rooted in Filipino culture. It refers to the tradition of bringing back gifts or souvenirs for loved ones when returning from a trip or journey. Gift baskets are often used to carry these pasalubong items.
3. Expressing Gratitude: Gift baskets are a tangible way to express gratitude and appreciation. Whether it's thanking a host for their hospitality or showing appreciation to a mentor or colleague, gift baskets convey sincerity.
4. Strengthening Relationships: In Filipino society, building and maintaining relationships is highly valued. The act of giving a gift basket is seen as a way to nurture and strengthen these bonds.
5. Corporate Gifting: In the business world, gift baskets are a popular choice for corporate gifting. Companies often send gift baskets to clients, partners, and employees as a gesture of goodwill and appreciation.
Gift Basket Philippines: Your Trusted Partner
When it comes to choosing the perfect gift basket and ensuring a smooth Gift Basket Delivery experience in the Philippines, Flower Delivery Philippines stands out as your trusted partner. Here's why our online store is the go-to destination for thoughtful gifting:
1. Customer-Centric Approach: At Flower Delivery Philippines, we prioritize our customers' satisfaction. We go the extra mile to ensure that your gifting experience is seamless and enjoyable.
2. Quality Assurance: We source the finest products for our gift baskets, ensuring that every item is of the highest quality. From fresh fruits to premium chocolates, you can trust the quality of our offerings.
3. Timely Delivery: We understand the importance of punctuality, especially when it comes to special occasions. Our dedicated team works diligently to ensure that your gift basket reaches its destination on time.
4. Secure Payment: Our online payment system is secure and user-friendly, making the ordering process convenient and safe.
5. Nationwide Reach: Flower Delivery Philippines covers a wide range of locations across the Philippines, ensuring that your thoughtful gift reaches your loved ones, no matter where they are.
6. Customization Options: Whether you want to customize the contents of your gift basket or add a personal message, we provide options to make your gift truly unique.
Conclusion
In the Philippines, Gift Baskets are more than just presents; they are tokens of love, appreciation, and celebration. The act of giving and receiving gift baskets is deeply embedded in the rich tapestry of Filipino culture. It's a way to express warmth, strengthen relationships, and create lasting memories.
Flower Delivery Philippines is committed to making every gifting moment special. With our wide selection of thoughtfully curated gift baskets and reliable Gift Delivery services, we are here to help you make your loved ones' day brighter and more memorable.
So, whether you're celebrating a special occasion or simply want to brighten someone's day, explore our range of Gift Baskets, and let us be a part of your heartfelt gestures.
In conclusion, Gift Baskets in the Philippines are a wonderful way to express your love, appreciation, and best wishes. With their versatility, personalization options, and convenience, they are the ideal choice for any occasion. Whether you're sending a Gift Basket in Manila or any other part of the country, Flower Delivery Philippines ensures a seamless and delightful gifting experience. Make your loved ones' day extra special with a thoughtfully curated Gift Basket from Flower Delivery Philippines.
Gift Baskets in the Philippines have evolved into an art form of gifting. Their versatility, personalization options, and the convenience of online Gift Basket Delivery make them a popular choice for celebrating special moments. With Flower Delivery Philippines, you can explore a wide range of gift baskets, customize them to your liking, and send heartfelt gifts to your loved ones across the country. The joy of giving and receiving a beautifully curated gift basket is a testament to the power of thoughtful gifting.
So, the next time you want to make an occasion extra special, consider the magic of Gift Baskets, and let Flower Delivery Philippines help you convey your love and best wishes.