Flower Delivery Philippines has established itself as a premier online flower shop, catering to the blossoming desires of customers across the archipelago. With a commitment to delivering not only vibrant flowers but also heartwarming moments, our same day flower delivery service in Manila and throughout the Philippines has become a go-to choice for those seeking to express their feelings through the language of flowers. In this blog post, we'll explore the world of Flower Delivery Philippines, its commitment to quality, and the convenience of flower delivery in the Philippines.
I. The Art of Flower Delivery
When it comes to conveying emotions, few gestures are as universally appreciated as the gift of flowers. Flower Delivery Philippines understands this sentiment and takes it to heart. We believe that every bouquet we create is a work of art, meticulously arranged to communicate your feelings, be it love, gratitude, sympathy, or celebration.
A. Why Choose Flower Delivery Philippines?
Freshness Guaranteed: Our flowers are sourced from local farms and growers, ensuring that they are not only vibrant but also long-lasting. With our commitment to freshness, you can trust that your bouquet will be a testament to your thoughtfulness.
Exquisite Arrangements: Our skilled florists craft each arrangement with precision and creativity. From classic red roses to unique mixed bouquets, we have something for every occasion and personal style.
Same-Day Delivery: We understand that sometimes emotions can't wait. That's why we offer same-day flower delivery in Manila and other major cities across the Philippines. Your heartfelt message will be delivered promptly, making your loved ones' day special.
II. Flower Delivery Philippines: A Name You Can Trust
A. Our Range of Services
Nationwide Coverage: Whether you need flower delivery in Manila, Cebu, Davao, or any other city in the Philippines, we've got you covered. Our extensive network ensures that we can reach your loved ones no matter where they are.
Customization Options: Every occasion is unique, and so should your bouquet be. Flower Delivery Philippines allows you to customize your orders, adding personal touches like chocolates, teddy bears, or handwritten notes to make your gift even more special.
Corporate Partnerships: We are proud to collaborate with businesses to provide corporate flower arrangements and gifts. Enhance your professional relationships by sending thoughtful floral gifts to clients, employees, or partners.
B. Customer Testimonials
Don't just take our word for it. Hear what our satisfied customers have to say about Flower Delivery Philippines:
"I ordered flowers for my mom's birthday, and she was thrilled with the arrangement. The flowers were fresh and beautiful, and the delivery was right on time. Thanks, Flower Delivery Philippines!" - Maria S.
"I needed to send flowers to my girlfriend in Manila as a surprise. Flower Delivery Philippines made it so easy. The bouquet was stunning, and she loved it!" - John D.
III. The Convenience of Same-Day Flower Delivery
A. Express Your Emotions, Anytime
Life is full of unexpected moments, and Flower Delivery Philippines is here to help you seize them. Whether it's a last-minute anniversary gift, a birthday surprise, or an apology gesture, our same-day flower delivery service ensures that you can convey your emotions when they matter most.
B. Hassle-Free Ordering
Our user-friendly website allows you to browse our extensive catalog, select your preferred bouquet, and place your order within minutes. With secure payment options and a straightforward checkout process, the entire experience is designed to be hassle-free.
IV. Flower Delivery Philippines and SEO
As an online store, Flower Delivery Philippines recognizes the importance of search engine optimization (SEO) to reach a wider audience. We understand that relevant keywords play a crucial role in enhancing online visibility. Here's how we incorporate them:
A. Flower Delivery
Our website is optimized to rank prominently for the keyword "Flower Delivery." When customers search for this term, they'll find us at the top of the results, making it easy for them to discover our beautiful bouquets and services.
B. Same Day Flower Delivery
For those in urgent need of fresh blooms, we emphasize "Same Day Flower Delivery." This keyword ensures that people looking for swift flower deliveries in the Philippines find us as their preferred choice.
C. Flower Delivery Manila
Customers in the capital city can quickly locate us by browsing Flower Delivery Manila. We ensure that our services are prominently featured for those seeking floral gifts in the bustling metropolis.
D. Flower Delivery Philippines
Our brand name itself, "Flower Delivery Philippines," serves as a powerful keyword. It helps establish our online presence and reinforces our commitment to delivering happiness throughout the country.
V. The Language of Flowers
Flowers have a unique language of their own, known as "floriography." Each bloom carries a specific meaning and sentiment, allowing you to express your feelings in a profound and symbolic way. Understanding this language can add depth to your gift-giving experience.
A. Red Roses: The Symbol of Love
Red roses are synonymous with love and passion. They have the power to convey deep affection and desire. When you send a bouquet of red roses from Flower Delivery Philippines, you're speaking the language of love.
B. Lilies: Purity and Renewal
Lilies symbolize purity, making them an excellent choice for weddings and anniversaries. They represent the renewal of the soul and the start of something beautiful. White lilies, in particular, are associated with virtue and commitment.
C. Sunflowers: Adoration and Loyalty
Bright and cheerful, sunflowers represent adoration and loyalty. They convey warmth and happiness, making them perfect for expressing appreciation and friendship. Sending a sunflower bouquet can brighten anyone's day.
D. Orchids: Elegance and Refinement
Orchids are symbols of elegance and refinement. They represent rare and delicate beauty. When you send orchids, you're acknowledging the recipient's unique qualities and sophistication.
E. Tulips: Declarations of Love
Tulips come in various colors, each carrying a distinct message. Red tulips declare love, while yellow tulips symbolize cheerful thoughts. Choosing the right color of tulips allows you to express your feelings with precision.
VI. Flower Delivery for Special Occasions
A. Birthdays: A Bouquet of Joy
Birthdays are a time for celebration, and what better way to brighten someone's special day than with a vibrant bouquet of flowers? Flower Delivery Philippines offers a wide selection of birthday-themed arrangements to make your loved one's day unforgettable.
B. Anniversaries: Celebrating Milestones
Anniversaries mark milestones in a relationship. Whether it's your first year together or a golden anniversary, our anniversary flower arrangements are designed to capture the essence of your journey together.
C. Valentine's Day: Love in Bloom
Valentine's Day is the day of love, and nothing expresses your affection better than a romantic bouquet. Our Valentine's Day collection includes roses, chocolates, and other thoughtful gifts to make your celebration unforgettable.
D. Sympathy and Condolences: Comforting Gestures
In times of loss and sorrow, flowers offer comfort and solace. Flower Delivery Philippines provides tasteful sympathy arrangements to convey your condolences and support to those in need.
E. Graduations: A Blooming Future
Graduations are a moment of pride and achievement. Celebrate the graduate's success with a bouquet that symbolizes new beginnings and a bright future.
VII. Sustainability and Ethical Sourcing
At Flower Delivery Philippines, we are committed to responsible sourcing practices. We prioritize sustainability and ethical sourcing to ensure that our business has a positive impact on both the environment and the communities involved in flower cultivation.
A. Local Sourcing: Supporting Filipino Farmers
We source our flowers from local Filipino farms whenever possible. This not only ensures freshness but also supports local communities and reduces our carbon footprint by minimizing long-distance transportation.
B. Eco-Friendly Packaging: Green Choices
We are conscious of the environmental impact of packaging materials. Flower Delivery Philippines uses eco-friendly packaging options, such as recycled and biodegradable materials, to reduce waste and promote sustainability.
C. Fair Trade Practices: Ethical Partnerships
We believe in fair trade practices and ethical partnerships with flower growers. Our commitment to fair wages and working conditions helps create a positive and sustainable flower industry in the Philippines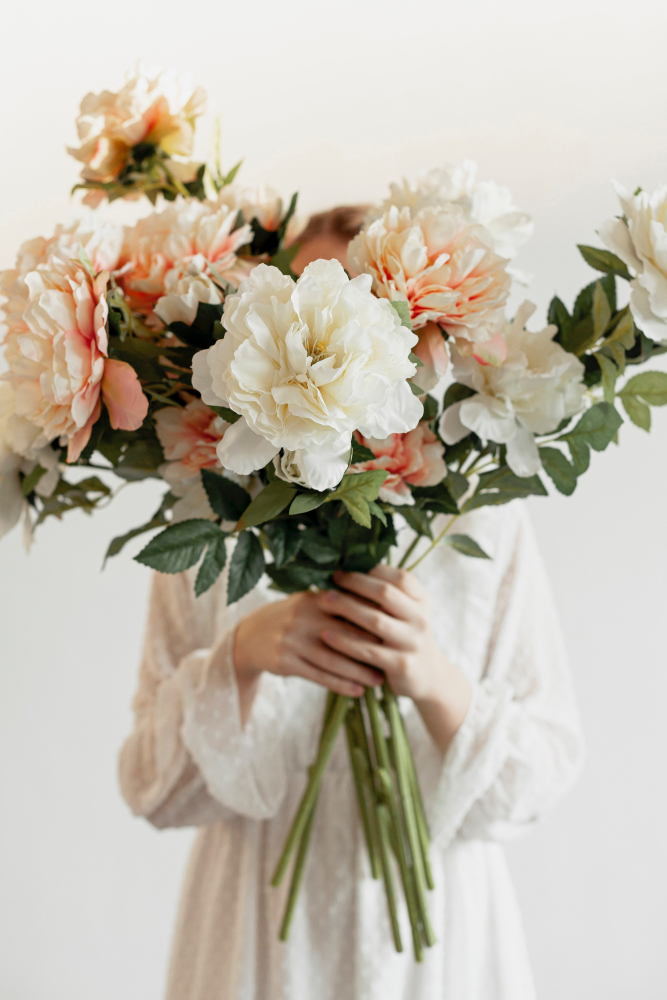 VIII. Flower Care Tips
To make the most of your Flower Delivery Philippines bouquet, here are some care tips to ensure that your flowers stay fresh and vibrant for as long as possible:
A. Fresh Water: Change the water in the vase every two days to keep it clean and prevent bacterial growth.
B. Trim the Stems: Cut the stems at an angle to allow better water absorption.
C. Remove Leaves: Remove any leaves that would be submerged in water to prevent rot.
D. Keep Away from Heat: Avoid placing the bouquet in direct sunlight or near heating sources.
E. Follow Flower Food Instructions: If provided with flower food, follow the instructions on the packet for longer-lasting blooms.
IX. The Language of Colors
In the world of flowers, colors play a significant role in conveying emotions and messages. Understanding the meaning of different flower colors can help you choose the perfect bouquet for any occasion.
A. Red: Love and Passion
Red is the color of love and passion, making it the most popular choice for romantic gestures. A bouquet of red roses is a timeless expression of deep affection and desire.
B. Pink: Sweetness and Admiration
Pink symbolizes sweetness and admiration. It's an excellent choice for expressing appreciation, gratitude, or affection for friends and family. Light pink represents admiration, while dark pink conveys gratitude.
C. Yellow: Friendship and Joy
Yellow signifies friendship and joy. It's a cheerful color that represents happiness and positive energy. Yellow flowers are perfect for brightening someone's day and conveying friendship.
D. White: Purity and Innocence
White is the color of purity and innocence. It's often associated with weddings and new beginnings. White flowers, such as lilies and orchids, represent virtue and commitment.
E. Purple: Royalty and Luxury
Purple represents royalty, luxury, and sophistication. It's an excellent choice for adding a touch of elegance to your bouquet. Purple flowers symbolize admiration and adoration.
F. Orange: Enthusiasm and Energy
Orange is a vibrant color that symbolizes enthusiasm and energy. It's a great choice for celebrating achievements and milestones. Orange flowers convey a sense of excitement and encouragement.
X. Flower Preservation Techniques
While fresh flowers are a delight, there are ways to preserve their beauty and sentimental value for an extended period. Flower preservation techniques have gained popularity, allowing you to enjoy your favorite blooms for months or even years.
A. Drying Flowers
One of the oldest methods of flower preservation is drying. There are several techniques, including air drying, pressing, and using silica gel. Dried flowers can be used in various craft projects, such as making potpourri or framed floral arrangements.
B. Flower Pressing
Flower pressing involves flattening flowers between absorbent materials, such as blotting paper or parchment paper. This method is excellent for preserving delicate flowers like pansies and violets. Pressed flowers can be used for card-making, scrapbooking, and more.
C. Flower Arrangement Preservation
Preserve your bouquet's beauty by turning it into a long-lasting floral arrangement. Flower Delivery Philippines offers services to transform your fresh bouquet into a preserved floral centerpiece, allowing you to enjoy its beauty for an extended period.
D. Resin Casting
Resin casting involves encapsulating flowers in resin to create stunning and transparent keepsakes. It's a unique way to preserve the beauty of your favorite blooms in jewelry, paperweights, or decorative pieces.
XI. The Gift of Flowers Beyond Occasions
While flowers are often associated with special occasions, they can also be given as a spontaneous and heartfelt gesture of love and appreciation. Consider surprising your loved ones with flowers on ordinary days to make them extraordinary.
A. Just Because
There's no need to wait for a special occasion to send flowers. A surprise bouquet on a random day can brighten someone's mood and remind them of your love and care.
B. Apology and Reconciliation
Flowers are a powerful way to convey apologies and seek reconciliation. The act of sending flowers shows that you acknowledge your mistakes and are committed to making amends.
C. Expressing Gratitude
When someone has done something kind for you, expressing gratitude with a bouquet of flowers is a heartfelt way to say "thank you." It shows appreciation for their generosity and thoughtfulness.
D. Support and Encouragement
During challenging times, such as illness or stress, sending flowers can provide comfort and encouragement. Your thoughtful gesture can be a source of strength and positivity.
XII. Join Our Floral Community
Flower Delivery Philippines is not just an online store; it's a community of flower enthusiasts, givers, and receivers. Join our floral community to stay updated on the latest trends in flower gifting, receive exclusive offers, and connect with fellow flower lovers.
A. Newsletter Subscription
Subscribe to our newsletter to receive regular updates on new arrivals, seasonal promotions, and floral care tips. Be the first to know about special offers and discounts.
B. Social Media Engagement
Follow us on social media platforms like Facebook, Instagram, and Pinterest to stay connected. Share your Flower Delivery Philippines experiences, tag us in your photos, and join discussions about the language of flowers.
C. Customer Reviews and Feedback
Your feedback is invaluable to us. Share your thoughts and experiences with Flower Delivery Philippines by leaving reviews on our website or social media pages. Your reviews help us improve our services and assist other customers in making informed choices.
XIII. Contact Us
At Flower Delivery Philippines, we are dedicated to providing exceptional customer service. If you have any questions, special requests, or need assistance with your order, our customer support team is here to help.
Customer Support: You can reach our customer support team through various channels, including phone, email, and live chat. We are available to assist you with any inquiries or concerns you may have.
XIV. Conclusion
In conclusion, Flower Delivery Philippines is not just an online store; it's a gateway to expressing your emotions and creating memorable moments. With a wide selection of fresh and vibrant flowers, a commitment to quality, and the convenience of same-day delivery, we are your trusted partner in sending thoughtful gestures to your loved ones across the Philippines.
In the world of online flower delivery, Flower Delivery Philippines stands tall as a symbol of quality, convenience, and heartfelt gestures. With our fresh and vibrant blooms, same-day delivery service, and dedication to customer satisfaction, we are your trusted partner in expressing emotions through the beauty of flowers. Choose Flower Delivery Philippines to make every occasion special, and let us help you convey your sentiments, no matter where your loved ones are in the Philippines.
As you browse our website and explore our diverse bouquet offerings, remember that every petal represents a sentiment, and every arrangement is a work of art. Let Flower Delivery Philippines be your guide in the beautiful language of flowers, where love, joy, sympathy, and celebration are conveyed with every bloom. Order from us today and experience the joy of gifting flowers that truly speak from the heart.
Thank you for choosing Flower Delivery Philippines to be a part of your moments, both big and small, and for allowing us to help you express your emotions through the timeless beauty of flowers. We look forward to being your trusted floral companion for years to come.